Foundation and Soil improvement
Precast pile installed in soil-cement mixed pre-borehole
GIỚI THIỆU CHUNG
Công nghệ khoan hạ (còn được gọi là công nghệ BASIC), được phát triển và áp dụng rộng rãi tại Nhật Bản từ đầu những năm 1980. Công nghệ khoan hạ là công nghệ thay thế vật liệu nền, không gây chèn ép, giảm biến động độ cứng tổng thể của đất nền nguyên trạng, không hình thành áp lực dư trong nền đất khi thi công. Một trong những ưu điểm nổi trội của phương pháp khoan hạ so với các phương pháp thi công đóng/ép cọc là phương pháp này có thể được áp dụng tại các khu vực thành thị, nơi cần hạn chế tối đa rung chấn và tiếng ồn khi thi công. Chiều sâu giới hạn của cọc thi công bằng phương pháp khoan hạ phụ thuộc vào năng lực máy khoan, thông thường là 40 m.
QUY TRÌNH THI CÔNG
Nguyên lý của công nghệ khoan hạ cọc là việc sử dụng máy khoan để khoan vào đất, đá nhằm tạo lỗ rộng hơn so với đường kính thân cọc. Đất tại vị trí thân cọc được khuấy trộn với vữa xi măng, sau đó cọc PHC sẽ được hạ vào hố vữa chưa kịp ninh kết này. Trình tự thi công khoan hạ cọc sẽ lần lượt được thực hiện theo thứ tự sau đây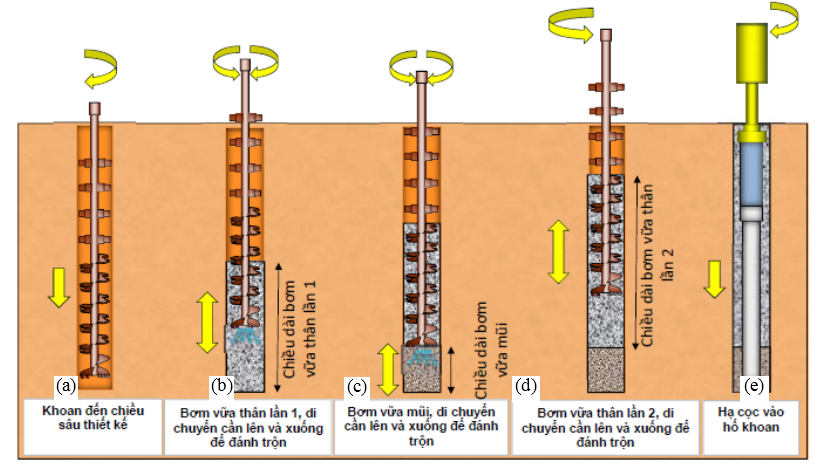 Hình 1: Các bước thi công cọc khoan hạ
VIDEO THI CÔNG KHOAN HẠ CỌC TRONG ĐẤT TRỘN XI MĂNG
[1] Park, J.B., Kim, J.S. and Chung, H.S. (2003). Bearing capacity characteristics of SIP piles, Journal of the Korean Geotechnical Society, 19(1):51-60 (in Korean).


[2] KGS (2015). Design criteria for foundation structure, Korean Geotechnical Society (KGS), pp. 304-305.


[3]    Lu, T.D. Dang, V.T. and Suzuki, Y. (2013). Introduction and case study of pre-boring method using pre-cast concrete piles - basic method, Proceedings of the 13th Conference on Science and Technology - Geotechnical & Infrastructure Session, Hochiminh University of Technology, ISBN - 987-604-82-0022-0, pp. 577-583.


[4]   TCVN 7201 (2015). Spun concrete pile works - Construction, check and acceptance, IBST.